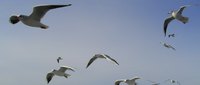 Many different types of birds migrate at some point during the year. Migration patterns may be north to south, east to west or from low attitudes to high altitudes depending on the particular bird species. Scientists still speculate on the main cause driving migration, but it appears that several factors are at work and vary in importance from one bird species to another.
Seasonal Food Scarcity
One of the main reason birds migrate is to find food when it becomes scarce in their current location. Birds seek a reliable food source be it insects, nectar or fruit. As the weather gets colder, the food and water sources that birds rely on begin to disappear. Locations with warmer climates will maintain these food sources during winter months and are therefore reason enough to migrate.

Avoiding Predators
One reason that birds may migrate is to avoid large predators, especially in the egg-laying season. For example, certain species birds may migrate very far north in the summer where many of their large predators will have not survived the harsh winter conditions. Birds who lay their eggs on the ground are particularly fond of this migration pattern since the threat to their eggs is far less.
Breeding Conditions
Certain species of birds may migrate to areas that have the best environment for breeding. For example, some birds migrate north to the Arctic in the summer to breed when food is plentiful and the daylight hours are abundant. These conditions are ideal for breeding, as birds can maintain high energy levels and avoid predators who will have died out in the harsh winter.
Biological Instinct
Although scientists believe the reasons listed above to be the main motivating causes behind bird migration, the simplest, most noncontroversial explanation is biological instinct. Prior to migration, many birds produce certain hormones that cause a buildup of fat underneath the skin. This layer of fat provides birds energy during long migratory flights. Though weather changes can trigger a bird's instinct to migrate, there is evidence that the urge is already built into their biology.