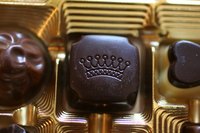 If you find sweet snacks enticing and you want to get in the food business, think chocolate. As in any business, your success depends upon a number of factors. If you are opening a brick-and-mortar store, location is vitally important. Having a virtual chocolate shop for online ordering offers another set of challenges. Hard work, a passion for chocolate and high quality products can set you up for some sweet rewards.
Production
Unless you intend to be a reseller who buys the product from another source, you need to learn the art of making high-end chocolate. Most consumers want gourmet chocolate made with minimal sugar and high cocoa content. You might consider taking an online course from Ecole Chocolat, a Canadian chocolatier school located in Vancouver, British Columbia. These experts offer a part-time, three-month program designed to teach you the fine art of making bonbons and chocolate bars. In addition to learning production techniques, you will gain knowledge on sourcing equipment, supplies and marketing strategies. Additionally, the school offers a second course on how to manufacture chocolate from the cocoa bean.
Sourcing
Finding a supplier that sells raw ingredients is the primary step in getting your business off the ground. You will need to purchase cocoa beans from a wholesaler in addition to gourmet nuts, raw ingredients for a variety of bonbons, liquors, syrups and spices. You will also need sources that provide labels and packaging for your products. Attending confectionery trade shows is a recommended way to meet suppliers and stay current with industry trends. The National Confectioners Association holds annual conferences and offers education and other benefits to members.
Equipment
A chocolate artisan must invest in the proper equipment. If you are making candies from scratch, you need special forks, molds, pans and thermometers. Additionally, starting with raw ingredients requires such equipment as a beater blade mill for grinding raw material, mixers and a melangeur, which is used to mix sugar into the cocoa. To save money in startup costs, you might look for used equipment that is in good condition. For retail outlets, you need to purchase display trays, plates and cases.
Location
If you are doing business exclusively online, you will need a place to manufacture your product. This means obtaining all the proper licensing and insurance. You must be well versed in sanitary handling and the proper methods of storing your products. Be prepared for inspections by health officials. Receiving a citation for infractions can be costly, and ignorance is not an excuse. If your dream is to own a storefront operation, you must find a location with a back room for production. Once you have secured a space, design a floor plan. Eye appeal is important. The physical surroundings should be just as pleasing to the eye as your candy. If you are not creative in spacial planning, considering asking an interior designer to give you some pointers.