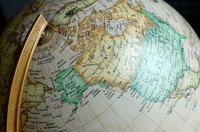 Travel is a favorite pastime of many, and some take it a step further and turn it into a career. If you're interested in joining their ranks, you have many options, including a career as a travel agent, tour guide, travel writer or working in some capacity on a cruise ship. Most travel-related careers will allow you to do some traveling yourself, even offering you the chance to see parts of the world you may have only read about or seen on TV and in movies. Salaries vary, but you can expect to earn anywhere from $25,000 to more than $50,000 per year in a travel-related job.
Travel Agent
Travel agents schedule trips and vacations, sell travel packages, book flights and cruises, and make other transportation arrangements. They also take care of hotel and resort bookings. They are usually offered discounts on vacations, which they can take when they have vacation time. But these trips also help them evaluate properties and accommodations, allowing them to make more informed recommendations to the clients. Many find this to be a major perk of the job. Travel agents work on a commission basis, so salaries fluctuate. The U.S. Bureau of Labor Statistics reported that the median annual salary for a travel agent was approximately $30,500 as of 2009.
Tour Guide
Tour guides are often confused with travel agents. Tour guides actually lead tours, taking travelers to various destinations. Tour guides are often called tour directors. A tour guide stays with a traveling party throughout the entire trip. They fly with them, ride on buses, boats or other forms of transportation, and do their best to ensure that everyone has a safe and enjoyable experience. Being a tour guide requires having good people skills, as well as the ability to handle logistics and quickly solve problems. The U.S. Bureau of Labor Statistics reports that the average tour guide made approximately $25,000 per year as of 2008.
Travel Writer
Travel writers get paid to write about their experiences around the world. They may write reviews of hotels, restaurants, attractions and vacation packages. Or they may write firsthand accounts of their experiences in cities and countries. Giving travel advice is another way travel writers make a living with their writing. Travel writers can work as freelance contractors or as full-time employees for magazines, websites or other publications. Many travel writers also write books. Employment website Simply Hired reports that the average travel writer makes approximately $35,000 per year as of 2011.
Cruise Ship Careers
You'll find many different job opportunities on a cruise ship. The captain, seamen and engineers take care of the mechanics of manning the ship and getting from one place to another. In addition, on most ships many positions are available for cooks and other kitchen staff, waiters, bartenders, musicians and entertainers, child care staff, workshop and activities coordinators, retail clerks and casino employees. The living quarters are often cramped and don't offer much privacy. On the other hand, cruise ship employees have the chance to see exotic parts of the world while earning an income and having few living expenses. Salaries vary widely based on the job and the amount of time you're away from land. Simply Hired reports that the average cruise ship employee makes roughly $52,000 per year, as of 2011.