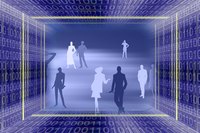 Businesses today evolve in an era of fierce competition with globalization and technology. They are faced with the challenges of staying current with social media, employee satisfaction, consumer demands and updated policies and procedures.To effectively handle the challenges, management and leadership are instrumental in avoiding related issues of privacy infringement, low morale and the inability to remain competitive with products and services.
Globalization Challenges
Businesses today face competition with vying products and pricing due to globalization. Balancing affordable pricing and quality can be challenging to the point of closing down your business. Furthermore, with globalization more employees are involved which can slow down decision-making processes or even end up with business "analysis paralysis". There is opportunity for profits in a global economy, with the challenging task for managers and leaders to develop new leadership and managerial skills to meet global demand.
E-Business Challenges
The convenience of the Internet has resulted in the rapid growth of e-business around the world. One of the most challenging aspects of e-business is to evolve from a project's concept to framework. E-business is ideal for discussions, but the process of implementation is difficult to comprehend. In their report, "Foundation of E-Business and E-Business Technologies," Jun Zu and Mohammed Quaddus state that current challenges with e-business require the need for: sufficient capital and resources for e-business, a specific e-business project team, implementation of security and privacy policies, and business integration to work with partners.
Social Media Privacy Challenges
Businesses use social media to promote through blogs, feedback, and pages on networking websites, which can intrude on users' privacy. For example, in 2010, Google Buzz assigned an automatic users network without consent and without informing Gmail users how they would be affected. Website registrations may require a user to provide her telephone number or mailing address to participate in an interactive website, which may not be necessary for its purpose.
Flexible Working Challenges
Flextime is becoming increasingly popular in the workplace to reduce absenteeism and boost morale and loyalty. Some organizations are offering it while others are not, simply because of lack of clear definition. Small- and medium-sized enterprises that are offering it, without adequate human resources and managerial departments in place, face administrative challenges with the growing number of flexible work hour applications. Granting approval to all requests puts a strain on businesses as the economy emerges from recession.