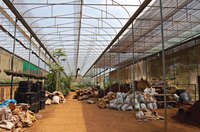 Greenhouse workers are involved in growing various types of horticultural products, including trees, shrubs, flowers and plants for the vegetable garden. The U.S. Bureau of Labor Statistics classifies them as agricultural workers in the specialty of crop, nursery and greenhouse workers. The agency reports that the occupation is characterized by low salaries.
Job Features
Greenhouse workers prepare greenhouse beds and containers. They plant, water and fertilize plants, and they observe plants on a daily basis for signs of problems such as disease or bugs. Some greenhouse workers wrap and pack plants to fill orders.
Salary Range
The average pay for greenhouse workers as of May 2009 was $9.50 per hour, or $19,800 per year, according to the U.S. Bureau of Labor Statistics. Ninety percent of greenhouse workers made less than $12.10 per hour, or $25,200 per year.
Salary by Experience
Salary does not increase much with experience in this occupation. The median pay range for greenhouse workers with up to nine years of experience is $7.60 to $13.80, according to January 2011 data from the PayScale salary survey website. The median range is the middle 50 percent of the earnings scale, the number at which 25 percent earn less and 25 percent earn more. Greenhouse workers with more than 10 years of experience have a median earnings range of $9.60 to $14.30 per hour. However, more than 60 percent of greenhouse employees leave the job before reaching this level of experience.
Potential
Greenhouse workers should find numerous job opportunities because the occupation has high turnover, per the U.S. Bureau of Labor Statistics. Individuals who want to make more money while staying in this line of work can advance to greenhouse or nursery managers and manage the daily operations of these facilities. Managers also supervise greenhouse staff. While general greenhouse work does not always require even a high school diploma, a manager is likely to need at least an associate degree and several years of experience. The median salary for a greenhouse or nursery manager was $41,000 as of January 2011, according to Salary.com.