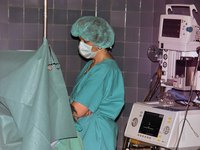 Registered nurses develop and manage care plans for patients and treat patients within their scope of practice. They work in a variety of settings, including general hospital care, intensive care, emergency rooms, doctors offices, nursing facilities and home health agencies. Some also work in hospital offices and for insurance companies. The average salary of registered nurses in North Carolina is lower than the national average for this occupation.
Requirements
All 50 states require registered nurses to be licensed. Aspiring registered nurses typically complete a two-year associate degree in nursing or a four-year bachelor of science in nursing degree. Some individuals complete an approved hospital-sponsored diploma program that usually lasts 18 to 32 months. Graduates are eligible to take the National Council Licensure Examination-Registered Nurse.
Salary Range
The median nationwide salary for a registered nurse working in a typical staff nurse position was about $65,400 per year as of January 2011, indicates Salary.com. The middle 50 percent of those on the earnings scale were making $59,400 to $72,000. The bottom 10 percent had salaries less than $54,200 per year, and the top 10 percent more than $78,000.
Comparisons
Salaries for registered nurses in North Carolina vary by city, but are generally lower than the national average. Registered nurses in Fayetteville, for instance, had an average salary of $58,750 in January 2011, which is in the bottom 25 percent of the earnings scale nationwide. Registered nurses in Asheville had an average annual salary of $59,300 and in Wilmington $61,000. Those in some other cities were earning much closer to the national average, with the average salary in Durham and Charlotte close to $65,000. The top 10 percent of registered nurses in these two cities were making more than $77,000 per year on average.
Outlook
Employment in the registered nursing field should grow more than 20 percent between 2008 and 2018, leading to excellent job opportunities for these workers, according to the U.S. Bureau of Labor Statistics. North Carolina has a shortage of registered nurses, a situation that likely will continue with an increasing elderly population and with many registered nurses approaching retirement age, according to the North Carolina Area Health Education Centers.