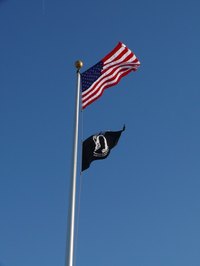 Military members are often wounded or injured or contract medical conditions while serving their country. The Department of Veterans Affairs is the primary resource of benefits for these veterans, including disability compensation and pensions. Often these benefits are overlooked or minimized by service members after they are discharged from active duty. But the disability and pension benefits are available for by qualified veterans.
VA Disability Benefits
Disability compensation is a benefit paid to veterans who were injured while on active duty or are disabled by the VA health care system. It is also paid to veterans who contract diseases while serving or who have injuries and conditions that are worsened during the same time frame. Veterans who experience a service-related disability may qualify for this benefit. Benefits are rated by the severity of the disability. After applying, the veteran will be required to see a doctor for an assessment of the claim. The application then goes before a medical board at the VA and given a rating. Ratings are scored by percentage from 10 to 100 percent. The benefit amount is based on this percentage and number of dependents the veteran has.
Disability Rating
The disability rating is how the VA scores a veteran's disability. It can also be a cumulative score based on a number of conditions and injuries. For instance, if a veteran suffers from tinnitus, a 10 percent disability rating and a neurological disorder at 40 percent, the veteran would have a rating of 50 percent. The disability rating awarded has a influence greater than how much the monthly benefit payment is going to be. Disabled veterans can qualify for other benefits with their state based on their disability rating such as exemption or reduced property taxes for life and driver's licenses.
VA Pension
The VA Pension is a benefit paid to wartime veterans who have a limited income available to them and are 65 or older. Veterans under 65 can qualify for the benefit if they are permanently and totally disabled. To qualify, the veteran must have served a minimum of one day during a wartime period. The VA counts all available income to the veteran's household for this benefit, including spousal income, military retirement pay, disability compensation and the income of dependent children. In 2010, the pension benefit could be as high as $11,830 for a veteran without a spouse or children. The benefit amount increases with dependents.
Aid and Assistance
The Aid and Assistance benefit is an additional benefit to the VA Pension. In addition to first qualifying for the VA Pension benefit, the veteran must require the aid of another person to perform essential daily living functions, such as bathing, eating, and dressing, or to avoid hazards of the veteran's environment. Veterans who are blind, in a nursing home or bedridden are examples of qualified individuals.
Housebound Benefit
Housebound is another benefit similar to the Aid and Assistance benefit, however, a veteran can qualify for Housebound benefits without first qualifying for a VA Pension. A veteran who is rated 100 percent disabled by the VA and is substantially confined to their home or living quarters may qualify for this benefit.
Considerations
The VA counts all available household income for the pension benefit. However, the VA states that there can be exclusions, deductions, waivers and hardship considerations for each applicant. If your income is near the minimum required for qualification, the VA recommends that you apply and be considered for the benefit.