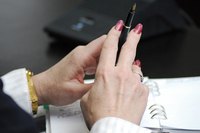 Investigative interviewing is a tool used by police, the military and a host of private and internal affairs investigators. The core of investigative interviewing is asking targeted questions and allowing the interviewees to speak while the questioners observes their behavior. Investigative interviewing can also be used to determine the suitability of job applicants. Strong, properly used investigative interviewing by internal affairs watchdogs may cut down on internal theft.
Preparing
Preparing properly for an investigative interview means reading up on the specifics of the situation as much as possible, particularly if there are any reports on the issue. In the less serious setting of an investigative job interview, reading the candidate's resume and checking employment references helps to build an understanding of the potential employee.
Opening
Start the interview with a little conversation, asking the interviewees some general questions about who they are and what they do, assuming you do not already know them. The general goal of opening with small talk is that it disarms the interviewees somewhat and puts them at ease for the harder questions to follow. In a job interview, asking the candidates their names, where they heard of the company and why they wish to work there is a good way to break the ice.
Asking the Right Questions
In cases of suspected wrongdoing, phrase questions tactfully and appear to be on the side of the person being questioned. Direct accusations often go poorly in situations where the person of interest can leave at will, which is always the case unless you happen to be a police officer holding a suspect. Instead, ask careful probing questions that encourage people of interest to retell their stories. Listen for changes, which often indicate falsehoods.
Directing the Course of Conversation
The basic course of the conversations should start with the subjects talking about their feelings on the subject of query. The next step is checking the details of the initial accounts against the re-tellings to either confirm truthfulness or catch the interviewees in lies. Close the interview by challenging people of interest with possible scenarios and gauging their reactions. In the context of an employment interview, this can take the shape of a simple question about how the candidate would deal with a tough on-the-job situation. In the context of a misconduct investigation, presenting solid proof of a person of interest's involvement and asking the person to form a defense followed by a review of the entire scenario concludes the investigative interview. Never try to solicit a confession of misconduct by claiming to have proof when none is present, since it could trigger a libel suit. Tailor investigative employment interviews by dialing down the tone of interrogatory questions to suit the nature of the situation.