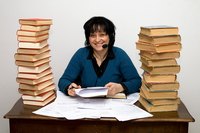 Library media specialist is how most K-12 schools now describe what used to be called the school librarian The library media specialist's role is to help students and faculty meet their information needs. They collaborate with teachers to evaluate how the curriculum and class assignments will translate into the technology and resources needed. It is a dynamic and rewarding career choice for many information professionals. Many enter this profession because of a passion for learning, but there is still one important, nonacademic question: How much money will I make?
National Salary Data
According to the United States Department of Labor, the average salary for school media specialists in a K-12 school is $54,650. Often, the larger the school, the higher the salary. More experience in the position usually equates to a higher salary, too.
Additional Benefits
Many of these positions also come with health, dental and vision benefits. In addition, a school library media specialist's compensation package often includes paid sick time, paid vacation, some reimbursement for training, a 403(b) and/or defined-benefit retirement plan.
Cost of Living
Before accepting any new job, it's important to understand the cost of living in that city or town. Will your salary be enough to maintain your desired lifestyle? If not, it is worth exploring positions elsewhere. In addition, consider the true costs of commuting -- both time and money -- either via public transportation or by car, which includes wear and tear on your vehicle. PayScale notes, for example, that the average commute for school library media specialists in Middletown, New Jersey, is 25 minutes each way.
Cost of Additional Education
Research the qualifications to become a school library media specialist in the state where you intend to work. Requirements vary. Some states accept a teaching certificate for this job. But if you need a master's degree in information and library science, that would mean additional time and expenses. Grants might be available to help finance your degree, but if you need to take out loans, would your salary comfortably cover this?