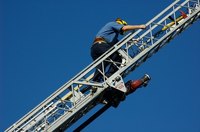 Employment for firefighters is expected to grow by about 19 percent through 2018, according to the Bureau of Labor Statistics. The number of applicants tends to exceed available positions, and this is partly because a high school diploma is the minimal requirement for entry-level employment.
Educational Requirements
While a high school diploma is the minimum educational requirement for an aspiring firefighter, employers like candidates with a post-secondary education. Taking courses in fire science or fire engineering can better your chances of being hired. Earning a degree qualifies you for advanced positions.
Training
Entry-level fire fighters typically undergo several weeks of training. The combination of classroom learning and practical exercises teaches recruits about fire prevention, building codes and emergency medical procedures. Trainees are taught how to use equipment such as chain saws, axes and fire extinguishers. Trainees also earn certification as emergency medical technicians, or EMTs. Advanced training sessions offered by organizations such as the U.S. National Fire Academy cover topic such as public fire safety and anti-arson techniques.
Fire Science Degree Programs
In order to qualify for promotions, many fire departments require candidates to have a bachelor's degree in a field such as fire science. Degree programs in fire science are tailored for individuals who wish to pursue senior-level leadership positions. As a fire science major, you would probably take courses in areas such as fire investigation, fire administration, and emergency services training. Additional coursework in the liberal arts and natural and social sciences round out a fire science degree program.
Continuing Education
Continuing education can include courses in emergency medical services, hazardous materials management, fire service and risk management. Firefighters may earn continuing credits in areas such as patient assessment, pharmacology and pediatric emergencies. Such credits are pertinent to a firefighter's status as an EMT. In addition, firefighters can take continuing education courses that cover topics including building search and rescue and hazard communications.