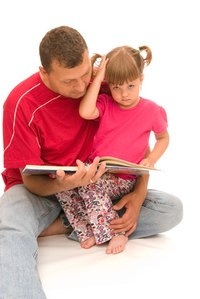 The penalties in Georgia for failing to pay court-ordered child support are very strict. Missing consecutive payments can cause the courts to order a lien on your car or other property, up to 12 percent interest on your debt, garnishment of your wages, loss of your license and even prison time. It is possible to have your child support obligations adjusted or deferred if you are experiencing financial hardship. Various legal resources are available to help you avoid the penalties of failing to pay child support during difficult times.
Georgia Department of Child Support Services
The DCSS is a branch of the Department of Human Resources that handles the collection and disbursement of child support in in Georgia. If you currently pay your child support via DCSS, you can request a modification of your support obligation if you can show a significant change in your financial situation, such as a loss of a job. If the DCSS handles collecting your child support and you are going to miss a payment, you must notify your case worker immediately to avoid legal recourse.
Atlanta Legal Aid Society
If you live in Gwinnet, Fulton, Clayton, Cobb or Dekalb county you may qualify for legal advice or representation provided by the Atlanta Legal Aid Society. Services are based on income level, and prioritized by the status of the case. If you have been served notification of a pending court date due to failure to pay child support, contacting the ALAS may provide you with the representation you need to avoid harsh penalties.
Georgia Legal Services Program
The Georgia Legal Services Program is similar to the Atlanta Legal Aid Society, but works with low-income people in rural areas of Georgia. The GLSP assists with domestic and civil issues, but does not work with criminal cases. It is best to inquire for legal assistance before you fall significantly behind on child support payments.
Family Law Information Center
The Family Law Information Center in downtown Atlanta. is designed to assist individuals who wish to represent themselves in legal matters, including child support enforcement and modification of child support orders. The FLIC offers consulting appointments as well as a vast library of forms and information to help assist you if your income is too high to qualify for legal aid.