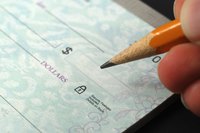 If a credit union customer receives a check written from another bank, he may not be able to cash that check at his credit union. Each bank and credit union sets its own policies, but if you are a customer of a particular credit union, there is a better chance of getting your bank check cashed there..
Check Cashing Regulations
According to the Consumer Financial Protection Bureau, a credit union legally only has to cash a check if the check comes from an account at that credit union, the person who wrote the check has enough money in his account to cover it, the check is no more than six months old, and the check casher provides acceptable identification. However, most will cash any check for a customer, even checks from other institutions.
Considerations
The federal government does not require credit unions or banks to cash checks for non-customers. If a bank does cash checks for someone who is not a customer, it may charge a fee for doing so. Even if you are a customer, some may not allow you to cash the check, but rather make you deposit into your account and wait for it to clear in order to use those funds.