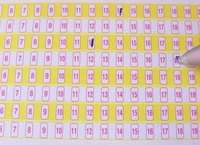 Congratulations on hitting the big one. Some would say your problems are over, but the truth is, more money tends to attract more problems. You may have already heard the horror stories of people just like yourself who won the lottery and somehow lost it all, ending up worse off than before Lady Luck showered them with riches. It doesn't have to be that way, if you keep a level head and manage your windfall responsibly.
Be Careful of Debt
One of the first things you'll discover as a newly minted member of the wealthy set is banks love to loan money to those who already have lots of it. They are happy to let you borrow for nice houses, cars, boats and all the finer things of life. Often when you hear of lottery winners going broke, it is because they owe creditors. The best thing you can do is use part of your jackpot to pay off what you already owe, and be very careful about taking on more credit.
Buy Appreciating Assets
Use the greater percentage of your lottery winnings to buy assets that will likely appreciate in value, such as real estate, stocks and bonds. There's nothing wrong with fancy cars, designer clothes, exotic vacations and parties, but those things either depreciate in value or become worthless over time. The surest way to avoid becoming another riches-to-rags lottery winner is to focus on buying assets that you can later sell for a higher price.
Live Off Interest Income
If you receive your prize in a lump sum, invest at least 90 percent of the money in solid income-producing assets, such as residential and commercial real estate, high-quality bonds and dividend-paying stocks, then live off the income. As long as you are able to keep your money invested in assets that produce enough cash flow to pay your expenses, and you are able to live off less than what is coming in, your lottery winnings should last you indefinitely.
Avoid Loaning Money
Many of your friends and family members may feel a sense of entitlement to a share of your winnings and you may be inclined to share a small portion, but try to avoid loaning money. Loaning money to friends and family who fail to repay the loans will almost certainly lead to hard feelings and broken relationships. They may feel you are being petty for asking them to repay a relatively small sum compared to what you won, and you may feel betrayed.
Taxes
On lottery winnings greater than $600, you will owe both federal and state taxes which will amount to about 35 percent, according to USA Mega.com, which provides information about Mega Millions. Your state's Department of Revenue will remove the 25 percent federal withholding before you receive the check. State taxes vary and can be almost 11 percent in some cases. If you elect to receive installment payments instead of a lump sum, you will pay taxes on each payment.