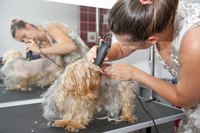 Pet groomers are trained caretakers that keep multiple types of animals clean and hygienic to improve their comfort and health. A career in pet grooming requires a desire to work around animals and an understanding of how to relate to them, as well as grooming skills for various breeds. Pet groomers are patient, adept at solving problems and are compassionate. Groomers need strong interpersonal skills so they can work effectively with clients and other workers.
Salary
According to Salary Wizard, the middle 50 percent of all animal groomers and bathers make between $24,693 and $37,729 as of January 2011. The bottom 10 percent of groomers make less than $19,650 while the top 10 percent make $44,555. The pet groomer median salary of $30,232 is favorable compared with the median salary of nonfarm animal caretakers in general, which was $19,970 as of 2012, reports the Bureau of Labor Statistics.
Definition
Pet groomers are involved in a variety of grooming services for animals, including bathing, drying, cutting, styling and trimming the fur, cleaning ears and cutting nails. Groomers schedule appointments, collect important pet information, such as behavioral and medical conditions, and discuss grooming needs. They must keep a safe and clean environment for pets and they must keep their equipment clean and sanitized. Groomers use various tools such as combs, brushes, electric clippers and shedding blades. While most groomers work on dogs, some work on cats and other domesticated animals.
Training
Pet groomers often begin their education with a high school diploma or the equivalent General Educational Development, or GED certificate. Prospective groomers than must gain some experience working with animals either as an apprentice with a groomer or at a vocational school training program. Grooming schools have programs that last between two weeks and 18 weeks. Groomers begin their employment with simple tasks like bathing animals and move on to more advanced skills as they pick them up. Some groomers will get certified by organizations like the National Dog Groomers Association of America, which may improve their future employment prospects.
Outlook
According to the Bureau of Labor Statistics, the employment of animal care and service workers, including pet groomers, is projected to grow 15 percent between 2012 and 2022. This is much faster that the average of all occupations during the projected decade. The growth is partly a result of pet owners gaining more disposable income as they age which will lead to an increase in grooming and other animal related services. As the pet population increases, the need for grooming services, especially mobile or in-home grooming, will likewise grow.