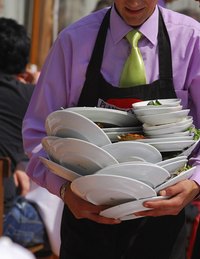 Labor laws in the state of Texas outline the legal obligations and rights of employees and employers with regard to professional relationships. Blanket labor laws governing all areas of employment and some specific provisions regarding tipped employees and minors apply to restaurants in Texas. These laws are a combination of state and federal legislation. Any restaurant employer found in violation of labor laws faces legal penalty, particularly concerning child labor.
Payment Schedule
Chapter 61 of the Texas Labor Code concerns the payment of wages. The provisions set forth by this chapter cover all occupations in the state, including restaurants. All employees not exempt, per the federal Fair Labors Standards Act, will be paid twice monthly at intervals as equitable in duration as possible. Employees not exempt from the FLSA will be paid at least once per month. If an employer does not deliberately schedule paydays, payment is due on the first and fifteenth of each month. Paydays must be conspicuously posted in the workplace.
Minimum Wage
Tipped restaurant employees will be paid in accordance with Texas' tipped employee minimum wage laws. Tipped employees qualify as those receiving at least $20 per month in tips. Texas tipped minimum wage laws adhere to guidelines set by the Fair Labor Standards Act. Per the FLSA, tipped employees may be paid as little as $2.13 per hour. However, tips plus hourly wage must be equivalent to the federal minimum wage, which as of January 2011 is $7.25. Thus tipped restaurant employees receiving $2.13 per hour must be making at least $5.12 per hour in tips. Non-tipped restaurant employees must receive at least the federal minimum wage.
Child Labor Law
Child labor laws in Texas prohibit minors from performing certain restaurant duties. Minors ages 14 and 15 are prohibited from cooking in any capacity, including the use of gas and electric grills, open flames and manually operated deep fryers. They are further prohibited from cleaning kitchen surfaces, baking, working in freezers and coolers, preparing meat and using equipment such as grinders, food choppers, cutters and mixers. Minors ages 16 and 17 are prohibited from operating or assisting in the operation of power-driven bakery and meat-processing machines. No one under 18 may work as a restaurant delivery person.
Hours and Overtime
Restaurants in Texas must adhere to all hours and overtime laws set forth by the FLSA. All employees who work more than 40 hours in a seven-day period are entitled to overtime pay of at least one and one-half times the standard pay rate. Employees that are at least 16 years of age are permitted to work an unlimited number of hours in any given period, provided that overtime hours and properly compensated and that overtime work is voluntary and not carried out under threat of job loss.