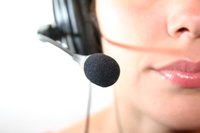 Those who employ telemarketers know the position often comes with a high turnover rate. Telemarketing can be stressful and requires a certain mindset that many people simply do not have. As a result, employers should strive to motivate their employees in as many ways as possible. One of the best ways to motivate a sales staff is to organize games or activities that promote happiness in the workplace.
Prizes
A sales staff can often be motivated by prizes, be it cash or otherwise. Organize a game in which the three people who make the most sales within a week's time walk away with a prize of some sort. This type of activity can make even the most lackluster of employees pick up their pace.
Employee of the Month
Everyone wants to be employee of the month at least once, and organizing activities to promote this sentiment can be motivating to telemarketers. Plan a game in which the employee who puts in the most hours within a week gets the title of employee of the month along with a plaque or trophy to signify his achievement.
Competitive Games
No matter what the workplace, people tend to want to outdo each other. Try to organize a game in which employees "battle" in terms of making sales and generating leads. As long as you are careful not to foster ill will between employees, this can help to increase motivation throughout the workplace.
Early Release
Most people don't complain when they're allowed to go home early after a hard day's work. Organizing a game in which the three people with the most sales by noon get to leave early is a great way to raise motivation among telemarketers. The more often this occurs, the more likely you are to see an increase in morning sales.