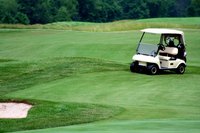 Owning a golf course is a competitive business. However, with the right mix of marketing ideas, it can be lucrative. Marketing your golf course helps attract new customers. More importantly, marketing can lead to loyal, repeat customers who are a consistent source of income for your business. Try several marketing ideas and stick with the ones that work.
Develop a Website
Some golf courses still do not have a website. According to the website Internet World Stats, 77 percent of people in North America use the Internet as of 2010, so if you don't have website, you are missing out on customers who search for golf courses online. Develop a website by hiring a website designer to help you create pages about your course history, hole-by-hole layout, scorecard and pricing. Some courses now offer online tee time booking services, which is an idea that can help attract new customers.
Create a Facebook Fan Page
Using Facebook is another idea that can help you market your golf course. Go to Facebook to create a "fan page" for your golf course. Include your contact information, hours of operation and a description of your course. Upload images of signature holes at your course. Then, invite all your friends to become fans of the page, and tell them to spread the word and invite their friends. This is known as word of mouth marketing, and can be a powerful tool to help get the word out about your golf course.
Send Direct Mail
Direct mail allows you to target golfers directly. You can work with a list provider to create a mailing list of customers who are avid golfers in your preferred target market. For example, you might choose to target golfers older than 60 years of age. You would then join with a direct mail list provider, and develop an ad about your course. Include a special offer with your ad to entice these customers to come try out your course. For example, you could send a senior special ad that lets these individuals play a round at your course for less than the normal green fees.
Frequent Player Cards
Developing a frequent player card is an idea that might help you create long-lasting relationships with your customers. It doesn't have to be difficult -- you can create something as simple as a punch card that customers can bring in every time they play a round. After a certain number of rounds, they would get a free round or a discount on their next round.
Email Marketing
Email marketing helps you stay connected with your customers. Ask customers for their email addresses when they come into your pro shop. Tell them they will get valuable deals and discounts in return. Send a weekly newsletter that includes golf game improvement tips and coupons for tee times. A newsletter is also a good way to communicate any important course and personnel updates.