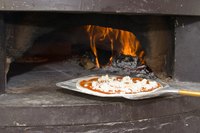 Even if you have the best pizza in the world, without a marketing strategy, you may be losing out on customers. Whenever you develop marketing tools and strategies for your pizza business, it is important to convey the benefits of your pizza shop over your competitors. These benefit statements should answer the question, "What's in it for the customer?" The good news is there are plenty of strategies for you to choose from to market your business.
Mobile Marketing
According to QSR Magazine, 270 million Americans had cell phones as of 2010. This represents a huge audience of people you can market your pizza shop to, and there are plenty of ways you can do it. One marketing strategy you can use for your pizza business is SMS alerts. Ask customers to opt in to your mobile subscription list in exchange for valuable coupons and offers. Send monthly text messages with deals and discounts for your pizza business. You can also use develop a mobile application that customers can download to easily view a store locator and map, menu and contact information for your pizza business.
Flyers
Hire someone to help you pass out flyers in the neighborhoods around your pizza business. The flyer should contain your menu, phone number and website URL. The top of the flyer should outline the biggest benefits and differentiators for your pizza shop. For example, if you offer healthy pizza options you can say something like, "XYZ Pizza -- we're the only pizza shop in Westchester to offer healthier pizza options like whole wheat crust, reduced fat cheese and low sodium tomato sauce. Another example is, "XYZ Pizza -- if you can find a cheaper large pizza in Westchester yours is free."
Unique Website Features
First off, if you do not have a website, hire a web designer immediately to help you build one. If you already have a website up and running, there are several marketing strategies you can use to take advantage of the growing number of people online. One marketing strategy you can use to get more business is to offer an online ordering system. This allows customers to place a pizza order online through your website. You can also offer weekly coupons and discounts that are "web specials," meaning they are only available on your website.
Community Events
Participate in community events to help spread the word about your business. Check with your local chamber of commerce to see what types of events and festivals there are in your city. For example, if your city holds an annual "Taste Fest," this is a great opportunity to market your pizza business to a large group of customers. Sponsoring a local conference or charity drive can also help you increase your brand presence in your local area.