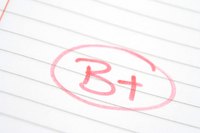 Pay for teachers can vary widely, with teachers at private preschools earning as little as the federal minimum wage while public school teachers earn significantly more. If you're thinking about becoming a teacher, don't do it for the money, because you won't ever earn as much as your peers in most other professional fields. Do a bit of research, though, and you can find school districts that pay more than the average.
Public School Wages
The minimum salary you will make at a public school depends greatly upon where you live. Teacher Portal reports that teachers who live in Connecticut have a starting salary of $39,259, and teachers who live in North Dakota have a starting salary of $24,872 -- a difference of $14,387 annually. As you gain years of experience, however, your salary may end up higher in California, the state with the highest teacher salary, with an average of $59,825. Go to South Dakota and you'll likely find yourself earning less than $35,000 mid-career. When calculating whether or not a district is offering you a good salary, don't forget to factor in time off, health insurance and other benefits.
Private School Wages
Private schools can pay teachers whatever the market will bear. They must pay a minimum of the federal minimum wage, which is $7.25 as of July 2009. Private school teacher wages are usually higher than this, unless the teacher works at a preschool, in which case they often are not much higher than the federal minimum wage. They frequently are a bit lower than public school wages, however, as private schools usually have no shortage of teacher candidates. Wages will vary depending on the wealth of the community that supports the private school.
Supplemental Income
Regardless of what wage a teacher earns, she can make extra money. Some of the things teachers do to supplement their income is coach school sports teams, mentor beginning teachers and teach summer school. Veteran teachers might earn extra money conducting district in-services. Other teachers might teach summer school or do paid after-school tutoring. Because teachers often have most of the summer free, they may also take the opportunity to work at a job outside of the district during that time.
Higher Paying Certification Areas
If you want to make a higher wage as a teacher, get certified to teach math or science. Many schools are experiencing shortages in these areas, and as a result, many pay an extra stipend to teachers who are qualified to teach in these areas. You can also often earn an extra stipend if you are certified to teach bilingual education or special education, because these are fields that also experience teacher shortages.