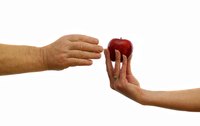 Approximately 53,000 full-time teachers work in Washington's 2,287 buildings in 295 school districts across the state, according to the Washington Education Association (WEA). A statewide salary schedule is established each year by the state legislature, although individual districts may increase salaries through local levies. WEA, the state's largest teachers' union, negotiates on behalf of its members with many school districts to establish salary schedules and benefits packages.
Years of Experience
The statewide salary scale and most school districts' salary schedules reward teachers for years of service in the classroom. Each movement down one side of the scale, known as a step, occurs after the completion of a year of teaching. The statewide scale has a maximum step of 16 years, after which teachers no longer receive an increase in pay for experience. They may, however, increase their education level to move across the scale in another direction.
Education
In addition to years of service, Washington's teachers are rewarded for continuing their own level of education. The lowest step on the statewide salary scale is for a teacher with a bachelor's degree and no additional credits. From there, teachers move across the scale for every 15 quarter credits completed until they reach the bachelor's plus 90 credits column. At this point, teachers must earn a master's degree before moving farther across the pay scale. The highest pay is awarded to teachers with doctorate degrees or a master's plus 90 credits.
Placement on Salary Scale
Once a teacher is hired by a Washington school district, placement on the salary scale is determined by district personnel. Experience from another district or state must be verified in writing and coursework must be documented by transcripts or other other official record. In some cases, school districts grant clock hours for in-service training, which may also be used to move across columns on the education side of the salary scale. Teachers also must be certified according to the standards established by the Office of the Superintendent of Public Instruction (OSPI). Current salaries range from $34,237 for teachers with a bachelor's and no experience to a maximum of $64,531 for teachers with the highest levels of education and experience.
Additional Pay
Washington teachers who obtain National Board Certification, an advanced teaching credential, receive an additional yearly stipend of $5,000. Individual school districts also provide supplemental contracts to teachers for time spent outside the school day, often known as TRI, or time, responsibility and incentive pay. In the Northshore School District, encompassing the cities of Bothell and Woodinville, beginning teachers earn $7,163 in supplemental pay in addition to the state-allocated base salary. Beginning teachers in the Richland School District in central Washington receive an additional $3,127 in pay.