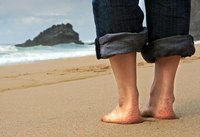 A big-ticket trip across the world or a less expensive road trip to see the sights of the United States requires forethought and financial planning. Merely hoping you have enough money when you take a trip may require an unprepared traveler to rely upon credit cards, which may carry hefty fees if used overseas. For this reason, creating a vacation savings account can help dreams of debt-free traveling a reality.
Set a Budget
As soon as an individual or family decides where they want to vacation, it is a good time to figure out how much the trip will cost. Expenses to consider include airfare if flying, gas if driving, car rental, hotel, food, tourist attractions, food and tips for service providers. Other expenses to consider are new luggage, passports, vacation-specific gear, rail passes and vaccinations. Once a family knows how much a vacation will approximately cost, "Travel and Leisure" recommends cushion their budget with an extra 10 to 15 percent, so the family has extra padding for the unexpected, such as a trip to see a doctor.
Open a Separate Vacation Account
Saving money in separate account can help prevent individuals from spending it elsewhere. The easiest way to put money aside is to open a savings account. Although a savings account does not accrue much interest with time, an individual can access the funds as needed. Those who plan to save a lot of money at once without touching it for six months may benefit from a six-month CD. However, families who plan to save money over the course of seven months or more could benefit from a high-yielding savings account or a money market account, according to "Travel and Leisure."
Automatic Money Transfers
Individuals who do open a savings account specifically for vacation funds may benefit from having their employer automatically deposit a certain amount of a pay check into that account every pay period. If direct deposit is not an option, an individual can set up his online bank account to automatically transfer a certain amount of money from the checking to the savings account on a regular basis.
Change is Good
A family can create a vacation "fun money" savings account at home by placing leftover pocket change into a dedicated piggy bank or jar. While the loose change will not amount to enough to pay for the whole trip, it can help pay for souvenirs. If individuals use debit cards more than cash, they can apply the same savings principle in their checkbooks by recording each purchase made up to the nearest dollar, and round bank deposits down to the nearest dollar, in their ledgers. For example, record a debit card purchase of $30.15 as $31 or a $50.91 deposit as $50. Then, when it is time to go on vacation, the family can withdraw the extra funds from the bank.