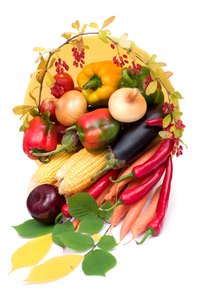 Furthering your education can be tough financially. In fact, an article in The Daily Caller points out many universities are encouraging their students to apply for food stamps, formally called the Supplemental Nutrition Assistance Program, in order to make the college years easier to bear. The Daily Caller points out that food stamps are paid for by your own tax dollars and are there to benefit you when you need them.
Educational Grants/Scholarships
Most states exclude student grants when considering a food stamp applicant's income and resources. In fact, states such as California and Arkansas don't count grants, scholarships or deferred students loans as income, according to each state's website.
Other Exempted Income
Depending on the state you live in, other types of income are considered exempt. These may include charitable financial donations of up to $300 annually, donations of food or clothing, the earnings of a high school student still living at home and Montgomery GI Bill benefits, according to Arkansas.gov.
Exempted Resources
The U.S. Department of Agriculture says a person can have $2,000 in resources and still receive SNAP benefits. If a person over the age of 60 or a disabled person lives with him, he can have $3,000 in resources. Such things as retirement plans, the family vehicle and a home may not be included as a resource, according to the California Department of Social Services.
Other Criteria
Applicants must be U.S. citizens or legal immigrants, according to the USDA. California requires legal immigrants to have lived in the country for a minimum of five years, though children born in America of immigrants are eligible no matter their length of stay in the country. In most states, applicants must be willing to work, if able, and can't quit a job.