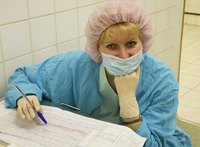 The advantages to obtaining a two-year degree over a four-year degree include convenience, cost, and flexibility. Most two-year degrees can be obtained at local technical or community colleges, which tend to offer classes close by with both day and evening classes. According to College Board, the cost of attending these schools is about $2,700 per year compared to about $7,600 for four-year colleges. In addition to these benefits, two-year degrees can prepare students for high-paying jobs.
Registered Nurse
For good salaries and prospects of high job growth, nursing is hard to beat. According to the Occupational Outlook Handbook, median annual salaries of registered nurses were $62,450 in 2009. Many employers offer flexible work schedules, child care, and bonuses to attract registered nurses. There is a great need for RNs for teaching. Also, those students who graduate with an RN degree and solid clinical experience will see that finding a high-paying position should be easy.
Dental Hygienist
Dental hygienists clean patient's teeth and teach patients how to practice preventative oral hygiene. Flexible scheduling is a common feature of this job, with full-time, part-time, evening, and weekend schedules generally available. Dentists often hire hygienists to work only two to three days a week, so hygienists who want to work full-time can work for more than one dentist. More than half of dental hygienists choose to work part-time. Median salary for a hygienist in 2009 was $67,340 and job prospects for continued growth are very good.
Physical Therapy Assistant
Physical therapy assistants help physical therapists in providing treatment that relieves pain, improves patient mobility, and prevents or lessens physical disabilities in patients. For example, a physical therapy assistant might help patients exercise or learn to use crutches. Patients will include accident victims and those with disabling conditions such as arthritis, head injuries, and cerebral palsy. Job prospects are very good and the median annual salary for a Physical Therapy Assistant was $48,590 in 2009.
Computer Specialist
Computer specialists provide technical support to computer system users, resolve problems for clients in person or by phone, and may provide assistance with computer hardware and software, printers, word processing, and electronic mail. Job prospects are expected to be good, with those having work experience holding a competitive advantage. Median salaries for computer specialists were $47,360 in 2009.
Electrical or Electronic Engineering Technician
Engineering technicians use the science, engineering, and mathematical principles to solve technical problems in manufacturing, research and development, and construction projects. Other possible tasks include quality control, conducting tests, inspecting products and processes, or collecting data. Employment prospects are affected by economic conditions and the job outlook varies by specialty. Median 2009 salaries for Electronic Engineering Technicians was $55,410.