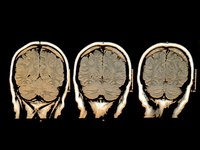 Glucose is the natural sugar present in foods you eat such as grains, legumes, fruits and vegetables. Glucose is the only sugar that feeds the brain, therefore it is necessary for proper brain function. To function, your brain cells need two times more fuel than other cells in your body. This is why eating the recommended amount of carbohydrates daily is so important.
Brain Energy
Your brain is loaded with neurons that are in a constant state of movement. Even while sleeping, your brain is hard at work making sure you are breathing and your heart is beating. Even dreaming requires brain power. To feed these constantly moving neurons, your body creates glucose from the foods you eat.
Complex vs. Simple Carbohydrates
Complex carbohydrates such as whole-grain oats, brown rice and muesli will provide your brain with more power than simple carbohydrates. Complex carbs stay in your body longer, allowing your bloodstream to send glucose to the brain in metered amounts. Therefore, the brain receives the perfect amount of glucose right when it needs it. Simple carbohydrates such as refined sugar, fruit juice and bread and pasta made with white flower will provide a quick shot of glucose to the brain but will not provide the lasting power that a complex carbohydrate will.
Thought and Memory
Thinking can sometimes be exhausting. Recently, scientists at the Medical Scholars Program at the University of Illinois College of Medicine have discovered that thinking and memory drain glucose from the brain at a higher rate than any other brain functions. It is possible to starve your brain of glucose from complex carbohydrates and still remain conscious, but productivity in learning, memorizing and thinking is highly diminished.
The Effects of Too Much Sugar
Simple carbohydrates such as refined sugar will give your brain a temporary boost of glucose, but they also trigger your pancreas to start secreting insulin. Insulin is a substance designed to vacuum the extra glucose from your system and store it for later. The harder the pancreas works to secrete insulin, the less glucose your brain will receive. Shortly after the glucose created by simple carbohydrates are vacuumed up by the insulin, you will feel weak, shaky and unable to concentrate. The name for this glucose deficiency is hypoglycemia.