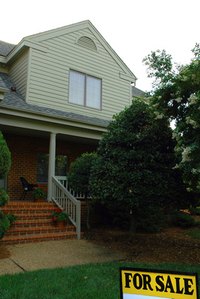 A bankruptcy will damage a consumer's credit score and significantly impact the ability to borrow. However, getting a mortgage after a bankruptcy is indeed possible. The time that it takes to secure a mortgage after a bankruptcy will vary depending on a number of factors. Consumers should take action to rebuild their credit, stabilize their financial situation and save money for a large down payment that will improve the terms of a future mortgage.
Time Frame
Some lenders may offer mortgage loans to consumers just a year or two removed from bankruptcy. However, these loans often carry high interest rates and fees. Mortgage lenders set their own standards for these loans. While shopping a number of lenders for a mortgage is always a good idea, it is especially important for those with a past bankruptcy to get the best deal. The ability to make a significant down payment that will result in instant equity in the home will increase the odds of getting a mortgage as well.
Monitor Credit Reports
Inaccurate reporting of debts discharged in a bankruptcy can lower credit scores. Pull a credit report and review it for accuracy. Debts dealt with in a bankruptcy will remain on a credit report, but the credit report should note the debts as included in bankruptcy. Often these debts are listed as overdue, which negatively impacts the ability to borrow. Have any inaccuracy corrected by following the credit reporting agency's procedure. Getting these inaccuracies corrected can take some time and effort but will result in a higher credit score.
Build Credit
After a bankruptcy, consumers may be surprised how quickly new accounts can be established. Consumers must be careful not to run up debt, but opening a credit account will allow the consumer to begin building a positive credit rating by making on-time payments. Secured credit cards are an immediate option for building credit after bankruptcy. To open a secured credit card, consumers place a deposit that will serve as their credit limit. The lender reports activity on these cards to the credit reporting agencies. Responsible use of the secured card will help a consumer build a positive credit report and will increase the consumer's ability to borrow.
Budget Before Buying
After filing for bankruptcy, consumers should use this time to get their financial house in order. Consumers should develop and follow a budget that will allow them to pay all their bills on time and to build up savings. The savings will be used both for a down payment for the home as well as an emergency fund that will help avoid future financial problems. Deal with the causes of the bankruptcy as well. For example, medical bills are a common reason for bankruptcy. Before buying a home, consumers should plan for future health problems by securing health insurance, funding a health savings account or other means.