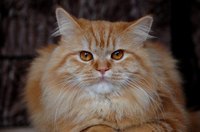 Most cats enjoy treats, and when given sparingly, they can be a healthy part of a cat's diet. Cat treats should make up less than 10 percent of a cat's diet and should be healthy, according to My Healthy Cat website. You should never give your cat treats meant for humans. Many snacks that are fine for humans can be dangerous and even deadly to cats. While hundreds of cat treat brands are available, some are healthier choices than others.
Friskies Cat Treats
Purina brand Friskies' Cat Treats include many flavors, including their Natural Sensations line that contains real meat and has added vitamins and minerals. They also have hairball remedy treats that come in tender and crunchy varieties. Their Indoor Adventures treats are specially formulated for indoor cats.
Whiska's Temptations Cat Treats
Whiska's brand Temptations Cat Treats come in a variety of flavors and have no artificial flavors. They also help control tartar. Whiska's also offers cat milk, specially formulated for cat's digestive systems. This is a good treat choice for cats that have trouble digesting cow's milk.
Meow Mix
This brand offers two flavors of treats, Go Fish, which has tuna and ocean flavors, and Ocean Explosion, which offers tartar control. The Go Fish flavor has a guaranteed analysis of 16 percent crude protein. The Ocean Explosion flavor has 29 percent crude protein.
Newman's Own
The Newman's Own brand offers treats that contain organic, all-natural products, including chicken raised without growth hormones. They do not contain ingredients such as genetically modified organisms or sulfates and oxides, which are cheap, "filler" ingredients and hard for cats to digest.
Pounce Treats
Pounce treats come in many flavors, all formulated to help control tartar. They come in crunchy and moist varieties. They meet Association of American Feed Control Officials (AAFCO) cat food policies. These treats are formulated to replace part of a cat's regular meals, so unlike many brands of treats they can be given to cats more often.
Feline Greenies Dental Treats
Feline Greenies Dental Treats come in five flavors and have no artificial colors or flavors. They come formulated with vitamins and minerals, and are specially made to help improve dental health for cats. These treats only have 5 calories per piece, so they are a good choice for a cat on a diet.