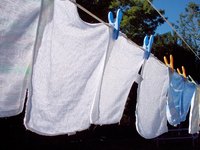 Maids are building cleaners who perform light cleaning duties such as vacuuming, sweeping and dusting in such establishments as homes, hospitals, hotels and restaurants. No formal education is required because they are trained on the job. However, they must be in good health, follow directions well and be hard-working. They may advance to supervisory positions, managing other maids on-site or from a central office location.
Pay
Maids typically work indoors in quiet environments that are empty of distractions and people. Though some work a standard 40-hour week, many also work part-time. Those who clean commercial establishments typically work evenings and weekends when offices are empty. Those in residences, work during the day when their owners are at work. The full-time median salary for maids is $19,250 yearly, with a typical range of $15,400 to $29,210. This breaks down to $9.26 per hour, with a range of $7.41 to $14.04. This information is from the BLS as of May 2009.
Employment
Those who work for themselves earn $16,604 to $50,083 per year but must spend part of their time uncompensated as they solicit new clients. However, once they become successful, they may supervise other maids in large establishments, or run their own cleaning businesses. Those working for private companies earn less at $14,646 to $20,608 annually, but spend no time on marketing or administration. They also have a greater chance at benefits such as paid holidays or insurance.
Employers
Compensation varies by employer because so does the type of cleaning and the amount of square footage to be worked on. Hotel accommodations offer the highest employment, with 46 percent of the available 887,890 positions. Work here favors efficient repetition, since maids work on many identical hotel rooms. The employers with the best pay are financial investment services other than banks and brokerages. These include managers of investment portfolios and trusts. Pay here is at $16.97 per hour or $35,300 per year, as maids work in offices and lobbies.
Cities
The most urban area in the nation, New York City, offers excellent job opportunities with 29,690 positions that pay the highest mean compensation: $15.48 per hour or $32,190. Aside from working on residences in the city, maids have opportunities in the many hotels and commercial establishments. Las Vegas, Nevada, with its large numbers of traveler accommodations, also offers good prospects, with 18,220 jobs and wages of $12.89 per hour or $26,810 per year, which are greater than the median.