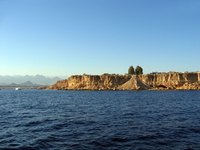 Kosher all-inclusive resorts can be tricky to find, but they do exist. Most are located in destinations popular with Jewish vacationers, such as the Catskill Mountains of New York State or Pennsylvania's Poconos region, or in areas with a large Jewish population, like Israel's Red Sea resort towns.
All-inclusive resorts generally include airport transportation, accommodations, meals, activities and sometimes drinks in one up-front price.
Kosher All-Inclusives in the Caribbean
The Caribbean islands aren't commonly thought of as having kosher restaurants. However, one all-inclusive resort caters to those following kosher dietary rules. The King Solomon Kosher Resort, located on the northern shore of the Dominican Republic, offers all-kosher meals as well as an on-site synagogue. The resort's all-inclusive package includes all meals, accommodations, transportation to and from the Puerto Plata Gregorio Luperon Airport, unlimited drinks and cocktails and a variety of water-sports.
Kosher All-Inclusive Resorts in the Catskills
The Catskills Mountains of New York state, located about 90-minutes west of New York City, are a traditional vacation spot for Jewish vacationers from Brooklyn, Manhattan and other east-coast areas. This picturesque region is home to several all-inclusive resorts with kosher kitchens. Among these are the 235-room, 250-acre Honor's Haven Resort and Spa in Ellenville with a spa, private lake and nine-hole golf course; the sprawling Kutsher's Country Club in Monticello and the family-friendly Spring Mountain Resort in Spring Glen.
Kosher All-Inclusives in Israel
Virtually all hotels and resorts in Israel offer a full kosher kitchen. The country's all-inclusive hotels are mostly located in the resort towns surrounding the Red Sea. Among the best options are the family-friendly and affordable Isrotel Lagoona, located in the Red Sea resort town of Eilat.
Kosher All-Inclusive Resorts in the Poconos
The Poconos Mountain region in eastern Pennsylvania is another area that historically caters to an Orthodox Jewish clientele. Several of the all-inclusive resorts that dot this rural setting boast kosher kitchens. Among these include the Woodloch Resort in Hawly, Pa., with its five restaurants, lake beach and myriad of daily activities. Other resorts, such as Cove Haven's Pocono Palace near Marshall Creek, offer airline-style kosher meals that are pre-packaged and just reheated on-site.