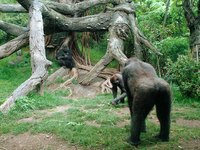 Some careers in zoology, such as zookeepers, require little education but receive low pay. Many zoological careers, however, are in areas such as wildlife biology or other research areas and require advanced degrees. Some fields and specialties require regular contact with animals, while others require considerably more time in laboratories.
Zookeepers
Zookeepers take care of animals at zoos, feeding them, keeping cages clean and watching for signs of behavioral or physical problems. Zookeepers often start as volunteers at zoos. Many have backgrounds working for veterinarians or other jobs working with animals, according to the Bureau of Labor Statistics. Zookeepers often have two- or four-year degrees in biology or some other science. Average pay for zookeepers is $21,550, according to the BLS.
Wildlife Educator
Wildlife educators work at nature centers, schools or parks educating groups about animals. They also write information for websites and pamphlets, create displays and exhibitions and buy or raise animals for exhibition. The average income for wildlife educators according to Simply Hired is $34,000.
Conservation Management
Conservation managers may run fisheries or work for agencies protecting endangered wildlife. They would be concerned with the animals themselves and their breeding habits, eating habits and migration. They would also be concerned with issues of habitat protection and management. They would divide their time between the lab and the field. In a similar field as zoologists, the median salary as of 2008 was about $55,290.
Zoologists and Wildlife Biologists
Zoologists and wildlife biologists study animals both in the wild and in research laboratories run by government entities or universities. Many specialize in a specific type of animals, such as, mammals or birds. Zoologists may work in a laboratory most of the time or may do field research that requires them to spend long periods of time outdoors. A bachelor's or master's degree is adequate for many zoologist jobs, but research jobs often require a PhD. Average income for zoologists in 2008 was $55,290.