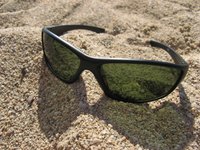 The best beach sunglasses are ones that provide you with 100 percent ultraviolet (UV) protection while also meeting your personal beach needs. Factors for beach sunglasses include appropriate lens type, material and tint. With a great variety of materials, types, and finishes to choose from, finding the right pair of beach sunglasses is a calculated decision based on function and personal comfort.
Polarized Lenses
Polarized lenses are suited for the beach because they minimize water glare, a result of light rays reflecting off of the water. Polarized sunglasses often cost between $40 to $50 more than nonpolarized sunglasses but allow for more comfort on the eyes in sunny conditions. Costa Del Mar and Ray-Ban both make polarized sunglasses, offering 100 percent UV protection and lifetime warranties.
UV Protection
Sunglasses should block between 99 and 100 percent of UV rays. Choose sunglasses with a label of "UV 400" or "100% UV Protection," both meaning that the lenses block all light rays with wavelengths up to 400. Also look for "The Skin Cancer Foundation Seal of Recommendation" on sunglasses to ensure that they provide adequate eye protection.
Function and Comfort in Material
The most common materials used to manufacture sunglasses include polycarbonate (a durable lightweight plastic), CR-39 (a plastic used mostly in prescription-grade lenses), glass (durable but heavier) and metal. Polycarbonate lenses are impact-resistant thus best suited for individuals who choose to engage in fast action and/or water sports. Glass lenses are more expensive and heavier but are also heat-resistant and maintain their form. The appropriate lens material is a matter of personal choice and comfort.
Tint Finish
The right tint color in the right conditions can improve vision and block glare and sunlight; the color of the lens finish determines what kind of light the glasses are capable of blocking. Gray tinted lenses are the appropriate choice for the beach because they reduce UV rays to a safe level while providing all-day protection. Brown and amber tinted glasses are also appropriate choices especially for individuals engaging in water sports and beach activities.