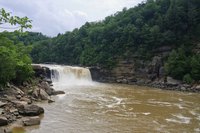 Famed for its natural diversity and history, Kentucky is an ideal state to visit in search of the unusual. A selection of national parks and museums celebrating "Bluegrass State" heritage will appeal to the visitor in search of the conventional, but for those looking for something a bit off the beaten track, there is plenty to choose from.
Morbid Fascination
Those interested in the history of medical sciences, or with a morbid curiosity, may want to visit the Monroe Moosnick Medical and Science Museum in Lexington. The museum, named for a professor at the local Transylvania University, features medical equipment and texts from the 18th and 19th centuries. The most unusual piece is a life-size anatomical model called the Medical Venus, which was created from wax casting the organs of hundreds of dead bodies. Seeing the collection is available by appointment.
Prehistoric Fun
Dinosaur World, located in Cave City, offers a day of prehistoric fun for the whole family. More than 150 life-size dinosaurs "live" in Dinosaur World, on display outdoors with information about who they were. There's also a life-size mammoth herd in the Mammoth Gardens. Children can learn about fossils by sifting for bones in the sand trough of the Fossil Dig. Or they can head out into the sandy bone yard and pretend to be doing fieldwork by digging and dusting for dinosaur bones. There's also a playground, an educational movie area, a museum and a gift shop. No food is served on-site but there is a picnic area and local pizza companies deliver.
Stunning Waterfalls
The Cumberland Falls State Park near Corbin contains a 125-foot wide waterfall that drops 60 feet into a gorge below. Visitors will enjoy the fine mist the waterfall sprays on them and the gorgeous view, including numerous rock formations. But the most remarkable thing about the waterfall happens at night under a full moon, when the water produces a "moonbow" or nighttime rainbow. The falls are the only moonbow producers in the Western Hemisphere.
Historic Caverns
Explore a natural wonder with a tour of the Historic Diamond Caverns in Park City. The deep, large underground cave features stalactites, stalagmites and other natural formations hanging from the cathedral high ceilings. Special lighting effects enhance the natural formations and help visitors see where they're going. The cave is self-regulated to maintain a temperature of around 58 degrees Fahrenheit no matter what the weather is above ground. A half-mile guided tour of the cave takes an hour.