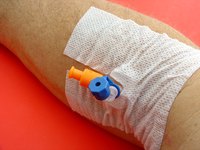 An anesthesiologist prescribes and administers anesthetics -- medicine that acts to inhibit the ability to feel sensation, particularly pain. These drugs may be used to render patients, or parts of them, insensible to pain during surgical procedures, or to alleviate chronic pain conditions. An anesthesiologist examines the patient to determine the type of anesthetic to administer and discusses findings with other medical practitioners involved with the case and may prescribe remedial medication in cases of adverse reactions to anesthetic drugs. To become an anesthesiologist, an individual must undertake many years of education and training.
Bachelor's Degree
The first step to becoming an anesthesiology physician is to gain a bachelor's degree. Ideally, this degree should be in a science subject, such as biology or physics, and typically takes four years to complete. The better an individual's high school performance the better her chances of securing a place to study at the most prestigious universities in the country.
Master's Degree
Candidates do have an option to follow their bachelor's degree with a two-year Master's degree in anesthesiology, studying courses in physiology, pharmacology, pulmonary mechanics and electrocardiography, and attending practical sessions with qualified anesthesiologists working in medical centers. However, the number of schools that offer this Master's degree is fairly small, and the majority of candidates proceed directly from their undergraduate degree to medical school.
Medical School
After successfully attaining a bachelor's degree (and, possibly, a Master's degree) an individual must apply to attend medical school. The U.S. Bureau of Labor Statistics reported that in 2008, medical schools that were accredited by the Liaison Committee on Medical Education, the national body responsible for accreditation of medical educational programs. Competition for places is very high and a candidate will need a good bachelor's degree grade, an excellent record of extracurricular activities and excel at the interview. A candidate will typically spend four years at medical school: two taking courses in all forms of medicine and two working under the supervision of physicians in hospitals and clinics.
General Medical Residency
After graduating from medical school, an individual must enter into a residency in general medicine, which constitutes on-the-job training, typically pursued in a hospital. This residency usually lasts between two and six years, but five years is the norm. After this time, a candidate applies to the licensing body of the state in which she works to obtain her medical practitioner's license.
Anesthesiology Residency
It is only after obtaining a general medical license that a candidate can apply to undertake a second residency specializing in anesthesiology. Typically this lasts between two and three years and involves working under the supervision of a qualified anesthesiologist and taking further written examinations set by the American Board of Anesthesiology.