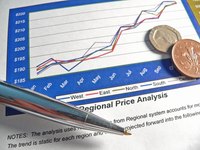 A marketing strategy communicates the strategic direction and promotional plan for your company for the following fiscal year. Having a sound marketing strategy in place can lead to increase revenues, reduced expenses and higher profits. There are several important aspects to a marketing strategy, which are commonly referred to as the "four Ps" of marketing: product, price, place and promotion. Your strategy should explore each of these topics in detail.
Executive Summary
A marketing strategy typically starts with an executive summary. In this section, summarize the marketing goals and objectives for your business, and provide a basic overview of your company, the size of your market and your company's market share.
Product
Your product strategy is one aspect of your marketing strategy. This section describes your products, how you position them and what their features and benefits are. Understand the difference between features and benefits when you include them in your marketing strategy. A feature is what your product can do, such as "anti-lock brakes." A benefit is what your product can do for your customer, such as "protect you and your family from hazardous road conditions." The product section of your marketing strategy should also describe how your product features meet your customers' needs
Pricing
Pricing is another aspect of your marketing strategy. There are several pricing strategies you can choose from. For example, you may want to position your product as the low-cost leader in your market. Or, you can position your product as the luxurious, high quality, aspirational leader in the marketplace. Your pricing strategy should align with the demographic characteristics of your target market. For example, if your target market is high-net worth investors, then you should be promoting a high-quality, higher-priced pricing strategy.
Place
Place is an aspect of your market strategy that communicates the locations where you build and sell your product or service. First describe where you manufacture and produce your products. Then, describe where you distribute these products to customers. If you have retail shops, communicate the location for each of them. If you do business online, state where your home office is.
Promotions
The final aspect of your marketing strategy is your promotional plan, which defines the tactics you will use to market your product or service. Choose several tactics for your marketing strategy that align with your target customer, including direct mail, Internet advertising, social media marketing, television and radio spots and print advertisements. For example, if you sell a line of baby food products focusing on young mothers, use more online tactics that appeal to this specific audience. If you sell life insurance and you target the senior-citizen market, use more traditional print-based tactics as part of your marketing strategy.