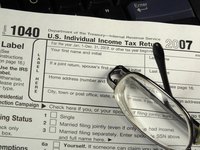 For some, tax time is the opportune moment to earn some extra cash. Tax preparers generally do not have the same in-depth training and formal education as certified public accountants, attorneys or enrolled agents, but tax preparer jobs bring great part-time or seasonal work. While annual salaries vary across the U.S., PayScale reports average January 2011 wages of $19,709 to $39,780. Large tax companies often award bonuses at the end of busy tax seasons.
Education
Tax preparers must be at least age 18 with a high school diploma or GED. They must attend tax preparation courses at a college; tax training school; online tax school or well-known, nationwide tax company's on-the-job training sessions. These classes teach the basics of federal and state tax laws and forms. Each year, it is crucial to familiarize yourself with changes or new tax laws. Bilingual preparers are helpful to citizens who do not speak fluent English but must file tax returns. Get affiliated with a professional tax group, like the National Association of Tax Professionals. This not only adds clout to your credentials, but these organizations also provide valuable tax information and resources to members.
Requirements
While most U.S. states do not require licensure, the National Association of Tax Professionals confirms that the U.S. government has tightened requirements for paid tax preparers nationwide as of 2011. Those who are paid for doing taxes must now pass a federal tax competency exam, which is expected to be available June 2011. After passing, you must register with the Internal Revenue Service by submitting a W-12 form and paying a registration fee to obtain an official Preparer Tax Identification Number. Those who register with the IRS before exams are issued have until Dec. 31, 2013 to pass the exam, or their PTIN will be revoked. In addition, the IRS requires annual completion of a 15-hour continuing education course.
Skills
Proficiency in computer skills and filling out and navigating comfortably through electronic tax filing programs is necessary. Efficient typing and math skills allow you to help a large number of customers in a reasonably quick amount of time with accuracy. Tax preparers must be well organized and detail-oriented to fill out tax forms completely and submit forms along with all required paperwork. People skills help provide a pleasant experience for customers who often regard the tax process as extremely stressful and annoying. Good oral communication skills are required to answer customers' questions and explain some seemingly complicated tax rules or procedures in ways customers can comprehend.
Character Traits
Honesty is important when dealing with the IRS. Information must be recorded accurately, and the proper questions must be asked of customers to make sure all sources of income are revealed and any deductions or tax credits that can be claimed are submitted. Professionalism must be maintained throughout the tax preparing process, and a high level of integrity must be present to keep the personal and financial situations of individuals and businesses confidential. Since business inevitably picks up as the tax deadline approaches, you must maintain composure and stay focused under stress.