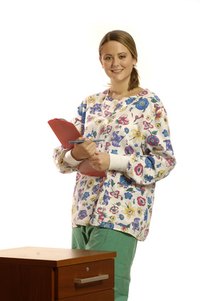 Entering the medical field as a registered nurse is an excellent way to begin a career in a hospital, private practice or other medical facility. Whether you're planning on working as an RN in the long term or moving on to another position in a few years, getting familiar with starting pay levels can prepare you for the first few years.
Starting Pay
PayScale shows that starting pay rates for registered nurses range from $19.58 to $25.10 per hour. These figures are taken from survey respondents still in their first year of the job. Additionally, the survey shows that annual pay for these individuals spans from $38,277 to $52,367.
Experience
Starting pay is not the only compensation level RNs should think about. According to PayScale, hourly rates range from $20.95 to $27.28 for registered nurses with one to four years of experience. A significant jump happens for those with five to nine years experience -- they get paid between $23.76 and $31.59 per hour.
Location
California leads the country for registered nurse compensation, with hourly rates from $28.98 to $41.01. New York takes second, falling behind with top hourly pay around $34. Texas, Illinois, and Pennsylvania rank next with top pay rates near $30 per hour.
Pay Trends
Pay for registered nurses has remained fairly constant over time, according to salary surveyor Indeed. In the two-year span from January 2009 to January 2011, average pay reached its lowest point in Summer 2010, at about 7 percent lower than the average during that period. As of the start of 2011, average pay was about 5 percent higher than two years earlier.