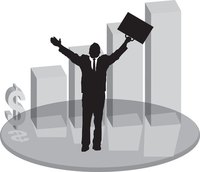 A good outbound sales process can have a ripple effect throughout your company, your customers and even yourself, according to sales expert Donna Fenn. When your outbound sales process is effective your company gains confidence in your abilities, your customers rely on you as a source of valuable information and your income and confidence go up. Inside and outside sales representatives can both benefit from a good sales process.
Know Your Product
One of the main aspects of an outbound sales process is to know your product well enough to sell it. That means understanding how your product works, what the features are, what the upgrade options are and how your product can benefit your customers. Once you get yourself into a customer location, or get a decision maker on the phone, you will need to create a smooth presentation to put confidence in the client. Part of a smooth presentation is being able to answer questions about your product with the appearance of being an expert.
Know Your Approach
A good telemarketing outbound sales professional has scripts that she works from to help give knowledgeable information in a format that works. An outside sales representative has a process that she follows to help her customers feel at ease, introduces the product and moves toward a close. Both the telemarketing script and sales approach need to be constantly updated. Remove portions of the script that don't work and replace them with key phrases and experienced-based approaches that do. If a certain phrase confuses customers then work to create a replacement that helps move the sales process along. Have a structured approach to your outbound sales to help you stay focused.
Know Your Customer
An outbound sales professional should always research a customer before making that first contact. To know what to say to a client when you make that first contact, and understand how your product can help the client, you need to understand the client's business and how the client interacts in the marketplace. Find out if the client is a market leader or a secondary supplier. If your product can help make the client's business process easier, then come up with a return-on-investment that will make the client interested. Comprehensive research on a client can make the outbound sales process much more effective.
Know Your Angle
Researching the client can tell you how your product can fit into the client's business; developing an angle requires more detailed preparation. Once you know how to sell the product to the client, you need to determine how you will position the product to make it appealing. It can be the client is in a battle with the competition regarding pricing. Therefore, your angle will be lowering the cost of production rather than increasing product quality. The general overview you create is your product can help the customer's manufacturing process. The angle is that you can help lower their costs to make them more competitive with the competition.