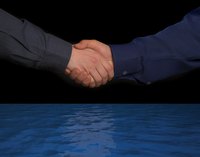 A merger is an agreement between the owners of two companies to combine the operations and brands of both companies into a new, single entity. An acquisition occurs when one company purchases and either absorbs or sells another business, with or without the approval or the company's leadership. Mergers and acquisitions affect the employees of all companies involved in a number of ways, making effective and timely employee communication vital to ensuring that the transition flows as smoothly as possible.
Communicate Early
Begin communicating with your employees as soon as possible in the merger process. Consider informing them of your desire to merge with, acquire or be acquired by another company before you begin searching for a counterpart to the deal, if possible. Give employees plenty of time to provide feedback about the deal and make personal and career arrangements, if necessary.
Stress Benefits to Employees
Focus on how the deal will affect employees and their careers in positive ways rather than on how the deal will benefit the company as a whole. Do not neglect to discuss the business needs served by the deal and the benefits to both companies, but make sure that employees can understand the advantages of the deal on a personal level as well.
For example, discuss how combining the two companies' distribution channels can cut shipping costs, which in turn translates into higher profit margins, which translates into higher profit-sharing bonuses for employees.
Layoffs
Inform employees as soon as possible if you are going to perform layoffs. Communicate the fact that the company will do all it can to help employees to find new employers by providing things like resume assistance, professional references, letters of recommendation and job-seeking assistance. Back up your assurances with action to avoid creating lasting feelings of resentment in your former employees.
Make the actual cuts as early as possible in the process to allow cut employees to begin searching for jobs while putting the "survivors" minds at ease regarding their positions. Allow employees to work for several months after being informed of their termination, and provide them with generous flexibility in work scheduling to allow them to travel to interviews.
The Grapevine
The grapevine is the informal communication network that permeates an organization. Control rumors and information in the grapevine by being active in informal conversations about the deal with employees from all levels of the organization, while being careful to stay within any time-bound confidentiality agreements that accompany the deal. Do not rely only on formal lines of communication to inform employees of the deal; never underestimate the legitimacy of the grapevine as an organizational communications tool.