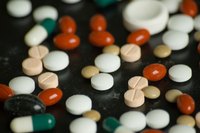 Pharmaceutical sales representatives are in a high-stress, high-turnover profession that rewards persistence and assertiveness with high salaries based on commissions. It requires technical knowledge of the medical profession, medicines and health. These professionals travel constantly to visit customers who may be doctors, pharmacists, hospitals, patient advocacy groups and retirement homes.
Salaries
Pharmaceutical reps earn a base salary of $58,961 to $82,787 per year, according to PayScale. However, much of their income also comes from annual bonuses of $14,554 to $24,583, profit sharing of $2,570 to $6,445 and commissions of $10,199 to $24,828. This can push total yearly compensation to a range of $75,135 to $105,995.
Experience
Experience not only increases the skills of pharmaceutical reps, it deepens their knowledge of long-term customers and widens their customer base. The passing years thus produce higher salaries. For example, new reps earn $37,189 to $57,737 per year, while those with one to four years of work make $50,628 to $63,475. At five to nine years of experience, they receive $61,241 to $76,768, and at 10 to 19 years, they get $70,629 to $93,702. Finally, with 20 years or more under their belts, reps top out at $82,892 to $111,872.
Skills
Skills can enhance salaries by providing pharmaceutical reps with an ability to perform more tasks. One of the most lucrative is strategic sales, which pays $66,001 to $96,997 annually. This is the ability to plan sales over a long period of time, to take advantage of business cycles and customer needs over many months or years. Cardiology is technical knowledge of medications that affect the heart. Its knowledge pays $67,462 to $88,348. Customer Relationship Management is the ability to develop an understanding of customer needs so business bonds are strengthened. This expertise grants $60,586 to $80,303.
Locations
Location can affect salaries. Jobs in high population states pay well such as New York at $59,046 to $85,269 per year, California at $59,657 to $82,798 and Texas at $59,459 to $80,743. The high population of Florida, coupled with an aging one, makes it the second-highest-paying state for pharmaceutical reps. Compensation here is at $58,945 to $83,033. For cities, the high-population urban areas of New York City offer a respectable $59,280 to $85,755 per year, while salaries in Los Angeles are at $58,497 to $82,860. However, they are topped by compensation in Atlanta, Georgia, at $66,388 to $87,969, and Seattle, Washington, at $58,382 to $87,665.