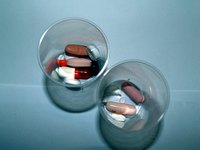 For those recently graduated from an accredited college of pharmacy, employment opportunities in the field are excellent, according to the Bureau of Labor Statistics. While starting salaries are fairly high, first-year pharmacists may be required to work odd hours, such as nights, weekends and holidays.
Starting Salary
The salary range in the United States for a pharmacist with less than a year of experience is between $67,589 and $99,788. After a year, that range increases to between $70,125 and $101,633. With over five years of experience a pharmacist can make up to $112,158, and with over 20 years of experience the range peaks at $118,592. These figures are according to salary survey website PayScale as of January 2011.
Certification
Students studying pharmaceutical sciences have the option to go for a few types of certification, each of which can affect the salary they eventually earn. PayScale states that the salary range for registered pharmacists (RPh) is $81,913 to $113,470, while certified pharmacy technicians (CPhT) earn less at a range of $49,132 to $86,476. A board-certified pharmacotherapy specialist (BCPS) earns between $98,280 and $105,203, and a board-certified oncology pharmacist (BCOP) earns between $95,000 and $112,500.
Industry
The industry a pharmacist chooses to work in will also have a bearing on his overall salary. The industry with the highest level of employment for this field is that of health and personal care stores, which offer a mean annual wage of $107,810. Pharmacists may also be employed at general medical and surgical hospitals, grocery stores or department stores at average salaries of $106,210, $105,640 and $105,120, respectively. The highest-paying industry for pharmacists is that of management, scientific and technical consulting services, which offers an annual mean wage of $116,710, followed by residential mental retardation, mental health and substance abuse facilities, which offer $114,580. These figures are according to the U.S. Bureau of Labor Statistics as of May 2009.
Location
The state in which a pharmacist chooses to work will have an effect on his salary, as any company or organization must consider the local cost of living as well as demand for pharmacists. The Bureau of Labor Statistics states that California is the highest-paying state for pharmacists, with an average salary of $117,080. Maine, Alabama, Minnesota and Alaska follow with salaries ranging from $113,460 to $115,760.