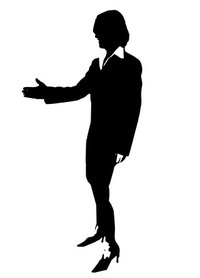 After you've interviewed for a job, you're most likely anxious about whether it was a success or not. While it may be difficult to ascertain where you stand as far as being hired, there are some signs that you might pick up on that can be good indicators that you are a top contender, and may even have the job.
First Callback
One of the best signs that your job interview was a success is that you get called back for another interview. Most job interview processes have several steps. The first usually is prescreening, where a representative of the company's human resources department interviews you. This is usually done by phone, but if you are called in for a one-on-one interview, you should consider this to be a positive. If the person from human resources is impressed with you, she will ask you to meet with one of the members of the department to which you applied.
Interviewing With A Supervisor
Meeting with the person who would be your direct supervisor is another indication that your chances of getting the job are increasing. These interviews can be done by phone. However, you could be asked to meet with him in person, which is even better.
Interest Level From Interviewer
While you are answering questions, pay attention to the interviewer's body language, just as she is paying attention to yours. You'll want to observe if she is interested in what you're saying, and not just waiting for you to be quiet so she can ask the next question.
Also pay attention to the amount of time your interviewer is allowing you to answer. If she is allowing you time to speak and not cutting you off, this is a sign she is intrigued.
Interviewers will also ask you to expand sometimes on particular areas of your background. Most won't take the time to ask you details unless they are trying to further their opinion of you.
Meeting Other Workers
After the interview with your prospective supervisor, you might be invited back to meet the colleagues with whom you would be working. This is usually the last interview. It is important because it is an indication that the company is winding down the interview process and that you made the short list.
Your Standing
Companies typically will alert you to where you stand when you are one of the last three to five on the list. Considering they've likely pared the list down from dozens or more people, the fact that you've made it this far is a sure sign that your numerous interviews have been a success.