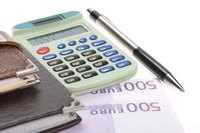 Foreclosure, bankruptcy and exhausted savings can result when households fail to budget properly. Creating a financial budget allows helps with the allocation of limited financial resources, prevents overspending and ultimately saves money. Budgeting is relevant because it provides a visual comparison of expenses against the household's income.
Allocating Resources
The creation of a budget helps with the planned distribution of limited wealth to expenses, financial commitments such as the repayment of loans and for the future planning of expenditures or purchases. Allocating financial resources provides you with a realistic overview of where money is spent. Once financial resource allocation is complete, planners can adjust budget allocation categories to compensate for unplanned events such as equipment repairs, medical expenses or tax increases.
Preventing Overspending
Creating a budget helps prevent overspending because you track all spending habits. Budgets allot each expense category a specific cash portion of the total month's income allowing individuals to measure their exact costs. This means that cash leakages such as unplanned banking fees, impulse expenditures such as purchasing daily coffee or interest expenses become more apparent and controllable.
Creating Saving Habits
Financial organizations recommend that individuals spend no more than 90 percent of income. They recommend saving the remaining 10 percent. By creating a budget, planners can adjust spending to accommodate the 90/10 saving recommendation. The financing of savings accounts, investment accounts and educational funds happens through budget reductions in expenses and the payment of debt. Budget planners can start savings, investment and educational accounts for as little as $50 a month.
Creating a Budget
Budgets are simple to create because many accounting software packages have internal applications allowing for the creation and tracking of budget expenses and income. In addition, many government agencies and non-profit organizations offer free budget worksheets to help individuals create home budgets. Creating a budget requires individuals to collect all their household expenses and income for a period of one month. Households use that one month's worth information to create expense and income estimates for the other eleven months. Special expenditures such as quarterly insurance payment are also included on the months they are paid.