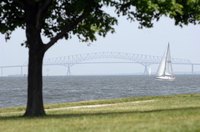 Maryland's location on the Chesapeake Bay makes for many ideal fishing and crabbing locations. Piers help bring fishermen away from the shore and close to their catch. Maryland is famous for seafood, especially crabs, and spending the day on a Maryland pier catching your own dinner is a popular past time for many Marylanders.
Bill Burton Fishing Pier State Park
Located in the town of Trappe, the Bill Burton Fishing Piers are open year-round, 24 hours a day. The piers are well-lit and draw fishermen due to their wide array of local fish. Perch, catfish, blue crabs and striped bass are among the catch many anglers take home after a day at this state park. Jogging, bicycling, walking and sunbathing are also popular activities on the piers.

Point Lookout State Park
The Point Lookout State Park is located on a peninsula formed by the Chesapeake Bay and the Potomic River. A 710-foot fishing pier is one of the parks three designated fishing locations. Fishing is permitted 24 hours a day, year-round. A night fishing pass must be obtained from the park by anglers wishing to stay after sunset. Boaters can launch their boat or rent one from the camp store. A fish cleaning station is also available for boaters. Hunting, swimming and camping are activities also available at this state park.
Solomons Island
Solomons Island is a small waterfront town in Calvert County. Fishing from Solomons Island's pier can bring you close to bluefish, rockfish, white perch and Spanish mackerel. Charter fishing boats are available for catching bigger game. The Maryland Department Of Natural Resources list Solomons Island as a soft crab hot spot during full moons. Bed and breakfasts, inns and hotels are available for overnight visits to the island.

Sandy Point State Park
Sandy Point is a Chesapeake Bay beach park providing families with waterfront fun on the bay. Located near Annapolis, blue crab and other local fish can be caught from the parks fishing and crabbing pier. Bait and fishing supplies are available for purchase at the marina store. Bathhouses and concession stands are also available for visitors to the park.