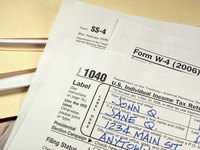 When filing their taxes, people always look for ways to save money. Often, this is via tax-deductible expenses from throughout the year. House insurance might be fully tax-deductible, partially deductible or not deductible at all. The way you use the house is the important part of the equation. For most people, the premium is not deductible.
Rentals
If you own rental properties and file an IRS Schedule E, Supplemental Income and Loss form (from rental real estate, royalties, partnerships, S corporations, estates and trusts), the premium is tax-deductible if the insurance is on a rental. It is part of the cost of making money from the rental, just like mortgage interest and repairs.
Personal Residence
While you can deduct your interest on your home mortgage, the IRS will not allow you to deduct the premium for your homeowner's insurance if it's simply your personal residence. However, if you file a claim for damage against the homeowner's policy, the insurance money you receive is tax-free since it puts you back to your original state.
Business in Your Home
According to IRS publication 587, "Business Use of Your Home," if you have a home business or office, you can deduct a portion of the homeowner's insurance based on the percentage of your home that you use for business. If you use 50 percent, the premium is 50 percent deductible. If you don't take the home office deduction, but have a business rider on your policy, you can deduct the cost of the rider.
A House as an Office
Some small businesses, such as attorneys, real estate agents and insurance reps, often purchase a house to use only as an office. If the house insurance is for your office, it is fully tax deductible on your Schedule C form, Partnership Form 1065, or Form 1120S for sub-S corporations.
Renting a Room
If you rent a room in your home, part of your insurance is tax deductible. You have to separate the house by business use and personal use. If you have an eight-room house and rent two bedrooms, you can take off one fourth of the premium since you rent one-forth of your home. If your tenant has full use of the bathroom and kitchen, do not count them in the total number of rooms.