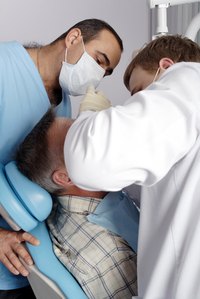 From Santa Rosa to San Diego, California dentists help their patients speak, smile and eat. A visit to the dentist may not be high on anyone's favorite to-do list, but these trained medical professionals perform everything from routine exams to extractions to molds for implants. For dentists practicing in the state of California, salaries fall considerably below those of their colleagues across the country.
Below National Average
When the U.S. Bureau of Labor Statistics (BLS) conducted a survey of wages for dentists in the country in May 2009, it determined the median annual salary for the profession to be $142,090 per year. Dentists serving California earned salaries significantly lower than the national average, with a statewide median wage of $127,680, a difference of $14,410 per year.
Range
A portion of California's 12,150 dentists (as of May 2009) earned higher-than-average salaries. The BLS cites salaries for both the 75th and 90th percentile of earners to be above $166,400 per year. At the other end of the range, California's lowest earning dentists in the 10th percentile of income averaged salaries of $75,600 per year, about half the national average.
Considerations
The path to earning a salary as a dentist in California is long, requiring postsecondary education similar to other careers in the medical field. Prospective dentists begin with a bachelor's program (usually in pre-dentistry) and apply to one of the American Dental Association's Commission on Dental Accreditation dental schools to seek a Doctor of Dental Medicine or Doctor of Dental Surgery degree. The Commission accredits six in-state schools — University of the Pacific Arthur A. Dugoni School of Dentistry, Western University of Health Sciences College of Dental Medicine, Loma Linda University School of Dentistry, University of California at Los Angeles School of Dentistry, Herman Ostrow School of Dentistry of USC and University of California at San Francisco School of Dentistry. California requires dentists to pass the National Board Dental Examination test.
Outlook
The BLS expects a 15 percent growth rate of dentist employment through 2018, adding 18,400 jobs nationwide. Dentists who specialize will be in greater demand; the Bureau's highest employment projection is 28 percent growth for prosthodontists, followed by 20 percent growth for orthodontists. The Bureau attributes increased demand for dental services in part due to the aging population's dental health issues and more dental health insurance coverage for the general public.