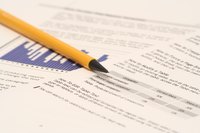 An operational budget outlines the costs of operating a business in terms of income and product development. This type of budget needs to be updated frequently, as it could change on a monthly basis.
When to Write It
The operational budget should be written during the start-up phases of the business. Although the business may grow tremendously throughout the first couple of months, the operational budget should be established and then expanded as the business grows. For example, the income may not be sustainable during the first couple of months, while the products being offered may be constructed with expensive supplies and tools. As the months pass and the income starts to increase, adjust the operational budget to include the additional income.
Outlining Earnings
The earnings and income of the business should be clearly outlined in the operational budget. For larger businesses, this can include both the income received from selling products and services, but also income that comes from investors and shareholders. Small businesses or independent contractor businesses may only be relying on the income from products or services sold. The operational budget should be broken down into categories, so each product or service offered has its own section in the budget. For example, if the business offers four services and six products, the operational budget should have 10 categories. This way, the budget can illustrate how much the business earns on each service or product.
Outlining Expenses
To produce a product or service, a business typically needs to have some production expenses. This is particularly true for businesses that manually produce their products or services, such as furniture or home-based crafting businesses. For the first example, expenses can include different types of wood, nails, screws, mechanical tools like screwdrivers and decorating supplies, such as paint or stain. As the tools and supplies are used to build the products sold in the business, they may start weakening or breaking over time, so be prepared to have additional repair expenses from time to time.
Planning
The operational budget is often only a part of a larger business budget. The operational budget is used to plan ahead when compared to other budgets or aspects of the business. For example, this budget may reveal that the business is spending too much on the production expenses in relation to how much the business is selling. The budget can be used to plan other products that can be produced for minimal fees to bring in more in sales in order to cover production fees.