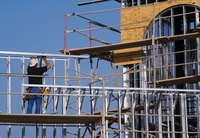 Engineers are highly technical professionals who research, analyze, design and build new products and equipment for commercial, medical and governmental organizations. Overseeing these teams of professionals are chief engineers who typically report to the chief executive officer and other executives in the organization. Often, engineers specialize in a branch of engineering such as biology or medicine. According to PayScale, chief engineers within the medical field averaged salaries between $64,164 and $107,929 per year in January 2011. Chief mechanical engineers reported average salaries ranging between $62,122 and $114,294.
Time Frame
PayScale revealed that average salaries for chief engineers specializing in mechanical devices rose as they acquired more work experience. The salaries of chief mechanical engineers with one to four years of experience fell within the range of $39,636 to $60,820 a year. Professionals with up to 10 years of experience increased their salary potential to as high as $97,306 per year. Chief engineers with 10 to 19 years of experience reported average wages ranging between $63,841 and $105,130 annually. Workers with 20 years of work experience or more received average annual earnings between $74,572 and $126,219.
Location
Depending on location, the salary differences for chief engineers working in different states can be as much as $30,000, according to PayScale. For example, California chief mechanical engineers earned between $73,268 and $138,165 annually. However, engineers employed in Michigan earned between $76,266 and $108,830 annually. Average salaries for chief mechanical engineers working in New York fell between $69,411 and $122,858 per year. Other states with salaries comparable to New York included Florida and Illinois. Chief engineers in these states averaged $64,366 to $119,308 and $70,046 to $117,750, respectively.
Benefits
Based on PayScale data, chief engineers specializing in medicine received benefits ranging from life and disability insurance to company cell phones. Workers with life and disability insurance earned average salaries between $63,871 and $106,823 per year. Chief engineers who received cell phones reported average salaries that ranged from $55,000 to $98,500 per year. Professionals who received paid holidays and vacation days earned average annual wages between $62,774 and $103,593. Chief engineers who had the option to participate in 401(k) plans reported average salaries ranging from $54,045 to $127,171 a year.
Industry
Some industries pay substantially more than others for chief engineers. PayScale reported that chief mechanical engineers working in hotel and hospitality management averaged salaries between $39,350 and $65,761 annually. Chief engineers working in aerospace and defense received average annual wages of $101,583 to $152,185 per year. Professionals employed by engineering consulting firms received annual wages ranging from $83,336 to $123,151 per year. The manufacturing and distribution industry paid chief mechanical engineers average salaries of $96,317 to $147,395. Workers who designed products for the construction industry earned the highest salaries, averaging $118,990 to $187,128 per year.