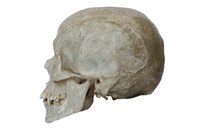 Biological anthropologists use fossils to study human development over time. They work in a branch of anthropology concerned with researching and analyzing the development of the human species. This field takes into account the biological and cultural aspects of human ancestry, ecology, behavior, and anatomy of historical and present primates.
Opportunities
Biological anthropologists, also known as physical anthropologists, typically choose career paths in research or teaching. Research studies at universities allow these master minds find answers to complex questions regarding human evolution from earlier life forms. They usually work in departments such as biology, anthropology, anatomy and zoology, or in medical school departments, according to the University of California. In addition, some work as human paleontologists or as staff members of natural history museums. Still others step into forensic science and law enforcement jobs, where they help solve crimes using forensic evidence.
Education
If you are interested in pursuing a career in biological anthropology, there are several avenues to take. One option is to major in anthropology, with a special emphasis on biology, or you can major in biology and obtain your master's degree in biological anthropology. Basically, a science or anthropology-related undergraduate major followed by a master's in anthropology or biology will satisfy education requirements. If you plan to work in law enforcement, you must obtain a degree specializing in forensic studies. Training requirements will vary depending on the specific path you plan to pursue. For example, if you plan to teach or do research at a university, you must obtain teaching credentials along with some teaching experience. Similarly, if your goal is to become a human paleontologist, you will likely shadow a person in the same field or do an internship.
Salaries
The median salary for anthropologists is $53,460 as of May 2009, according to the Bureau of Labor Statistics. Salaries vary depending on the portfolio, company, location and industry. For example, the average salary for anthropologists working for the federal government is $71,400, while the average salary for workers at colleges and universities is $46,890. Anthropologists in Honolulu earn an average of $54,470 a year, but the average earnings for an anthropologist in San Diego is $103,860 a year.
Job Outlook
Job growth for anthropologists will grow much faster than average, to a tune of 22 percent between 2008 and 2018, the BLS states. The best opportunities are in management, scientific, and technical consulting services companies. Advanced degrees, research experience and communication skills are helpful in obtaining the best jobs.. Demand for physical anthropologists exists in other industries, and opportunities may exist under other job titles. Search areas such as medical genetics, primatology and even publishing for job opportunities.