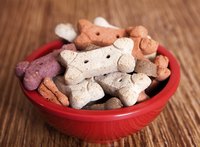 Carafate 1 gram is a brand name for sucralfate, administered to protect and heal stomach ulcers. It was first developed for human stomach ulcers and is widely distributed to dogs as well because of the few and minor side effects.
Canine Ulcers
Dogs may have stomach ulcers most commonly caused by taking nonsteroidal anti-inflammatory drugs or corticosteroids for long periods of time. Liver disease, high stress levels, chronic gastritis, shock and kidney failure all can lead to stomach ulcers.
Signs of ulcers include vomiting, which can contain old blood that looks like coffee grounds, or fresh, red blood and blood clots. A veterinarian makes a diagnosis of stomach ulcers by doing a gastroscopy to view the stomach.
Carafate Protection and Healing
Carafate is a mucosal protectant that forms a sort of bandage of gel webbing over ulcerated tissues. This protects the ulcer from irritation of stomach acids. Carafate also has healing tissues in it to assist in healing the ulcer while protecting it.
Your veterinarian likely will recommend a bland diet of cottage cheese or chicken and rice to reduce the acid in your pet's stomach and help the ulcer to heal.
Side Effects
Carafate is widely used in ulcer treatment because of the minimal side effects. Some dogs experience constipation when on this medication; rarely, a dog may experience labored breathing or hives if he has an allergic reaction to Carafate.
Carafate Drug Interactions
Carafate diminishes the effectiveness of several drugs such as antibiotics, anti-fungal drugs, thyroid hormone replacement, heart and seizure medications, and airway dilators. Staggering the administration of these types of drugs and Carafate by two hours allows each to work to its full capacity.
If your canine friend is also taking an antacid medication, give him his dose of Carafate 30 minutes before the antacid. Carafate requires some acid in the stomach for it to form the protective gel over an ulcer.