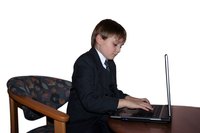 Determining a reasonable rate for a private tutor is a significantly more complex issue than many parents or struggling students might initially realize. Key factors of consideration when deciding on what to budget for a tutor include the difficulty and subsequent rarity of tutors capable of teaching in the specific field you're studying, as well as whether face-to-face tutoring is necessary or if webcam telecommuting offers a suitable alternative.
Overseas versus Local Tutors
Those seeking a tutor, either for themselves or their children, have a choice in a modern digital America between local tutors and foreign tutors overseas. In some cases, particularly when learning an exotic language, a foreign tutor fluent in both English and her native tongue can be immensely helpful for demonstrating correct pronunciations. Foreign tutors are also a good resource for the universals of learning, such as mathematics, though it is important to note that some foreign countries use methods of mathematical notation differing from the North American standard.
General Pricing Information
According to a 2006 article on CNET, the going rate for international tutors on general primary and secondary subjects is either $20 an hour for drop-ins or a fixed fee of $100 a month and unlimited service as provided by TutorVista. While the U.S. Department of Labor does not track tutors as a vocation, the nearest fit – remedial education teachers – earn between $16 and $30 hourly, with the best 10 percent in the field earning roughly $40 hourly, as of 2011.
How Specific Topics Factor In
The subject matter makes a big difference in the availability of tutors. For example, studying the history of the American Civil War might preclude the use of a majority of foreign tutors for whom the events are not particularly familiar. On the other hand, a parent might have difficulty finding a local tutor to teach her child Portuguese. When determining what to pay or offer to pay a tutor, it is important to factor supply and demand into the offer. Make sure the offer is realistically competitive when compared to the local market to ensure that a bid is taken seriously.
How Tutoring Methods Effect Rates
Tutoring methods also effect the overall price of the tutor. A local tutor, in the sense that he is American, might offer a discount for customers who are prepared to learn via webcam telecommuting. Some tutors, particularly those with rare skills, may charge a premium for time spent traveling to the student's home for face to face teaching. Tutors who specialize in children with severe learning disabilities or attention deficit problems may also charge service premiums.