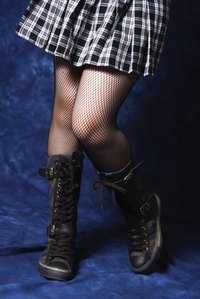 Fashion trends in the 1980s were all about bold colors and distinct silhouettes. Clothing in turquoise and hot pink replaced the muted metallic tones of the previous decade. Women opted for acid-washed denim instead of satin and sequins. Proportions shifted as extreme shoulder pads replaced bell bottoms. Popular movies and the advent of music videos influenced women's clothing more than ever. As women discovered their niche in the world of 1980s fashion, some clear styles emerged.
Corporate Chic
Women began to challenge traditional roles. Wives and mothers entered the workplace in record numbers. According to an article in "The Atlantic," the number of working married women rose to 67 percent by the middle of the decade. This cultural shift led to "power dressing" as a fashion trend. Career women copied looks from movies like "Working Girl." Business suits in jewel tones and houndstooth prints were popular at the time. Wide shoulders and gold buttons were trendy. Streets in big cities teemed with women walking briskly in business suits and sneakers. Suede pumps that matched the suit were a common choice for footwear in the office.
Layers and Lace
Artists like Madonna had a huge influence on women's fashion in the 1980s. Lace fingerless gloves, voluminous miniskirts, leggings and clunky combat boots were staples in every Madonna wannabe's closet. A tailored men's vest might be worn over a lace tank top or t-shirt. Bracelets climbed up the arm all the way to the elbow. Chain belts and multiple necklaces in different lengths also accessorized the look. Monochromatic looks in white or black with a pop of color were everywhere as women found new and creative ways to express themselves through fashion.
Preppy
"The Preppy Handbook," by Lisa Birnbach, was one of the most popular style guides of the 1980s, selling over 1 million copies, according to the "New York Times." Nearly every villain in John Hughes' movies looks like he walked right off the pages of Birnbach's book. Preppy women embraced the pink and green color palette and donned polo shirts with the collars turned up, penny loafers and sweater sets. Wide-wale corduroys, tennis shoes and Fair Isle sweaters were hallmark pieces in the prep's wardrobe. Preppy fashion signified an elevated social class and level of taste.
Workout Wear
Movies like "Flashdance" and music videos like Olivia Newton John's "Physical" brought workout wear into the fashion spotlight. Legwarmers and headbands in a rainbow of colors were the signature accessories of this 1980s trend. It was not unusual to see a woman wearing a leotard and opaque tights in public. Sweatpants with the waistband rolled down and the cuffs rolled up were paired with an off-the-shoulder sweatshirt. Health-conscious celebrities like Jane Fonda and Jamie Lee Curtis helped to make exercise clothes a legitimate style in the 1980s.